The Wayne County Board of Directors is a group made up of people functioning in both the profit and nonprofit sectors.  Each person brings unique practical experience and real world perspectives to the table when considering how best to support the local economic development initiatives in Wayne County.
Our  Board of Directors are volunteers who are elected to a 2-year term.  The board is not funded by any department of Wayne County.  General board member responsibilities include:
Attending a minimum 80% of board meetings.
Agreeing to serve a 2-year term.
Developing an understanding of WCBC programs and services.
Contributing expertise, experience and knowledge to the board's agenda.
Supporting the work of all WCBC committees.
Accepting an assignment to at least one (1) standing board committee.
Attending as many WCBC sponsored/co-sponsored events as possible.
Meet the Directors: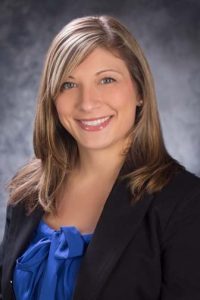 Jennifer Preston is President of Wayne County Business Council.
She has been employed with Reliant Community FCU for 12 years serving in various roles. She has a strong passion to share what credit unions have to offer communities and understands how important it is for community members to be aware of the businesses, resources and opportunities available in this area.
Jennifer is a Marion High school graduate and earned degrees from both FLCC and Medaille Colleges.
In addition to serving on the WCBC board, she has coached youth soccer, been an active Rotary member, continually been involved with Cub Scouts, and is currently a Girl Scout Troop Co-Leader.
As a Wayne County resident, she believes working to make the community a better place to own a business, be employed in, reside in and raise a family is a great investment.  As a board member, she hopes to continue fostering collaboration between local businesses, chambers, government leaders and communities.
Jennifer has been employed for the past 13 years at Reliant Community FCU, serving in various roles. She has a strong passion to share what credit unions have to offer communities and believes it is important for community members to be aware of the businesses, resources and opportunities available in this area. As a board member, she hopes to continue fostering collaboration amongst the local businesses, schools, chambers, government leaders and community members.
________________________________________________

Diana Lagenor is Vice-President of the Wayne County Business Council.
She also serves as Chairman of the Board of Directors for Newark Housing Development Corporation, member of Board of Directors for Wayne County Business Builders and member of Wayne ARC's Guardianship Committee.
She retired from Wayne ARC as Marketing Representative. Owned a Home Decorating business for 30 years in Newark.
She was born, has lived, worked and worshipped in Wayne County for over 60 years
________________________________________________

Stacey Wicksall is Secretary of the Wayne County Business Council.
She is also the Director of Macedon Public Library.  In 2015, She received the "Library Innovator of the Year" award at the Pioneer Library System Annual Dinner.  Previously, she directed Red Jacket Community Library in the Manchester-Shortsville School District.  Stacey received her Master's Degree in Library and Information Science from Syracuse University.

As director, she connects people and ideas and makes it a priority to target programs that invigorate the local business community. She strongly believes a library should mirror the desires and needs of a community and recognizes the strong potential for economic development in Wayne County.  She has forged a strong partnership with SCORE in order to offer a series of entrepreneur workshops. She has also received funding from Senator Pam Helming to offer technology skills workshops.

In the past, Stacey has been actively involved with Canal Connection Chamber of Commerce, Rotary and National Digital Inclusion Alliance.
________________________________________________

Warren Halladay is a long time member of the council. He has been a Wayne County resident for over 25 years.

He was a founding partner in a manufacturing business called, "Packaging Corporation." He and his partners relocated the business to Wayne County on Wayneport Road in Macedon.
Warren now engages in independent consulting work in Wayne and Monroe Counties. He currently functions as a Business Manager at Franke Farms LLC, a large Christmas Tree plantation located in Wayne County. Additionally, he supplies marketing, promotion and prospecting support to the nonprofit Christmas Tree Farmers Association of New York.

He has served as President of Wayne County Business Council, and has been on the board since the early aughts.
________________________________________________

Deborah L. Corsner is the Director of the Finger Lakes Community College Newark Campus Center.  She has worked for the College at the Newark site in various capacities since 2006 and began serving in the Director role in 2015.  In her position at FLCC, Deb oversees operations at the Newark Campus, works to plan Center course schedules, seeks to grow enrollment, and creates partnership opportunities for the College and the surrounding community. She facilitates the FLCC Newark Campus Center Advisory Board and serves on the Newark Chamber of Commerce Board of Directors.
Deb holds a Masters of Business Administration and a Masters of Education both from SUNY Oswego.  She owns a small business, Give a Little Whistle Travel, which specializes in Disney destinations. Deb lives in Seneca Falls with her husband and two teenage sons where she also serves as a member of the Board of Education.
________________________________________________

Mary Camblin Dandino grew up in Palmyra, NY and attended college at FLCC in Canandaigua, Buffalo State College, and Nazareth where she majored in Graphic Design and Advertising, Photography and Art Education.  She has lived in Lyons since 1984.
Mary is married with two daughters and two grandchildren.  They live in Buffalo and Florida.
She has always worked in the Graphic Design field in ad agencies in and around the Rochester area.
Approximately ten years ago, she started doing wedding photography part-time.  After about seven years she decided she would concentrate on portrait photography.
Now Mary is a full-time photographer, and she also freelances at agencies that need extra help.  She has an in-home studio, and she also goes to various locations to photograph people.
________________________________________________
Ashley Baker is the Director of Vocational Services at Arc Wayne.  She began working for Arc Wayne in 2009 and has worked in both the Medicaid Service Coordination and Quality Assurance departments before moving into the Director role.  During her time as a Medicaid Service Coordinator Supervisor she served on the Wayne County Partnership where she worked with other agencies to strengthen individuals and families through agency cooperation and resource alignment.  She is excited to bring her work experience along with passion for community service to this membership.
She graduated from Newark Central School District and pursued her education at Monroe Community College and SUNY Brockport, where she earned her Bachelor of Science Degree in Social Work.
Ashley resides in Newark with her husband, Luke and two children, Kolsten and Ayla.